Advertisers shell out big money each year to get it front of millions of eyeballs on Super Bowl Sunday, but some brands banked on social media to create buzz. In many cases, it paid off — companies that were quick on their feet during opportune moments such as the stadium blackout became a huge topic of conversation on the web, seemingly cost free.The strongest example of this is Oreo, whose quick-witted ad hit just minutes after the power went out at the Mercedes-Benz Superdome. The ad — which said, "No power? No problem. You can still dunk in the dark" — was retweeted nearly 15,000 times and won respect for making the most of the situation. It created even more buzz than its TV ad.
It was clear Oreo was ready for the night though. Prior to that tweet, it sent out another clever message during the Half Time show in reference to Beyonce's performance.
Tide also worked fast to get a timely ad online.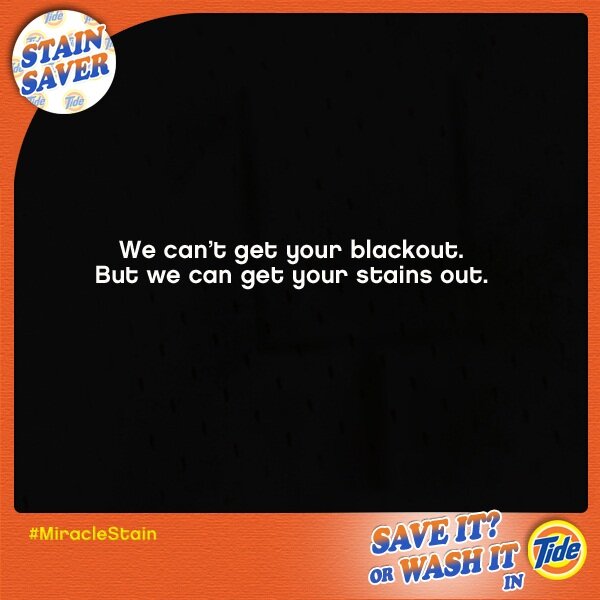 Calvin Klein not only capitalized on the blackout, it also embraced the hottest new trend on the Internet by sending a Vine, a new service from Twitter which allows you to string together short video clips. The company tweeted a six-second video of a ripped man doing sit-ups, with the message "Since the lights are still out…"
Since the lights are still out… http://vine.co/v/b1iiiiUz5uq  #SB47
Jim Beam posted a picture of its Black Double Aged liquor to Facebook, saying "in case you missed the memo… tonight's big game 'power outage' was sponsored by Jim Beam Black."
PBS also won big encouraging people to switch the channel to watch its popular TV show,Downton Abbey.
Walgreens got in on the action too.
Meanwhile, Audi said it would be sending some LED lights to the Superdome as soon as possible.
Twitter said it took just four minutes after the lights went out for the first advertiser to bid on "power outage" as a search term. Brands such as Bud Light and Speed Stick were among the bidders, while Calvin Klein purchased "blackout." This means anyone on the micro-blogging site searching for those key words were shown tweets from those brands at the top.
Which brand do you think best capitalized on the blackout? Let us know your thoughts in the comments below.